Fotopolska.pl Neurode - Nowa Ruda
During the Hussite Wars, Neurode was raided several times and reduced to ashes. In 1434 it received town charter principles from its landlord. After the death of Friedrich von Donyn in 1467, Neurode and Mittelsteine fell to the Bohemian King Georg von Podiebrad as a settled fief. In gratitude for services rendered, he gave them to Georg Stillfried-Rattonitz on condition that he marry one of the sisters of the deceased Friedrich von Donyn. In 1472, Duke Heinrich the Elder of Münsterberg, the then feudal owner of the county of Glatz, confirmed the donation. In the middle of the 16th century, the Lords of Stillfried accepted the Reformation and hired a Protestant preacher.
Although the Lords of Stillfried were on the side of the Winter King Frederick of the Palatinate in the Bohemian Revolt, they forfeited only a few estates after the Battle of the White Mountain. In 1624, Bernhard I Stillfried returned to the Catholic faith in the course of the Counter-Reformation and thus escaped severe punishment. Neurode was destroyed in the Thirty Years' War; in addition, the plague raged in 1633, killing almost 1000 people in Neurode and the surrounding area.
In 1742, with the Peace of Berlin, which was confirmed again with the Hubertusburg Peace of 1763, Neurode, together with the county of Glatz, fell to Prussia. The subsequent reforms of Baron Karl vom Stein led to the landlords being largely disempowered. Annoyed by this and also because of financial difficulties, Friedrich August Stillfried sold the manor of Neurode to Anton Alexander von Magnis auf Eckersdorf in 1810. As forced administration had already been ordered due to the existing debts, the transfer of the estates to the von Magnis lords, who resided at their castle in Eckersdorf, could not take place until 1821. They used Neurode Castle as the seat of the estate administration, and from 1899 as the seat of the mining administration.
Aus: https://de.wikipedia.org/wiki/Nowa_Ruda
Castle Neurode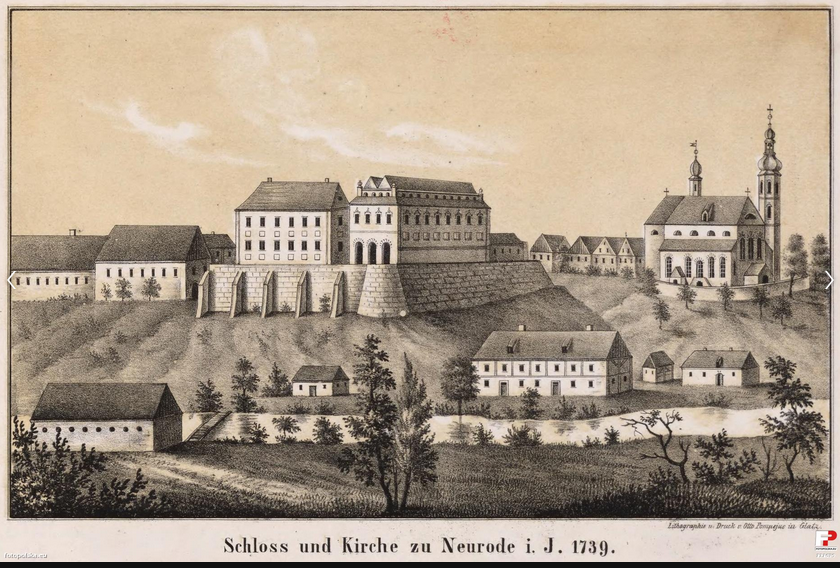 Quelle: http://fotopolska.eu