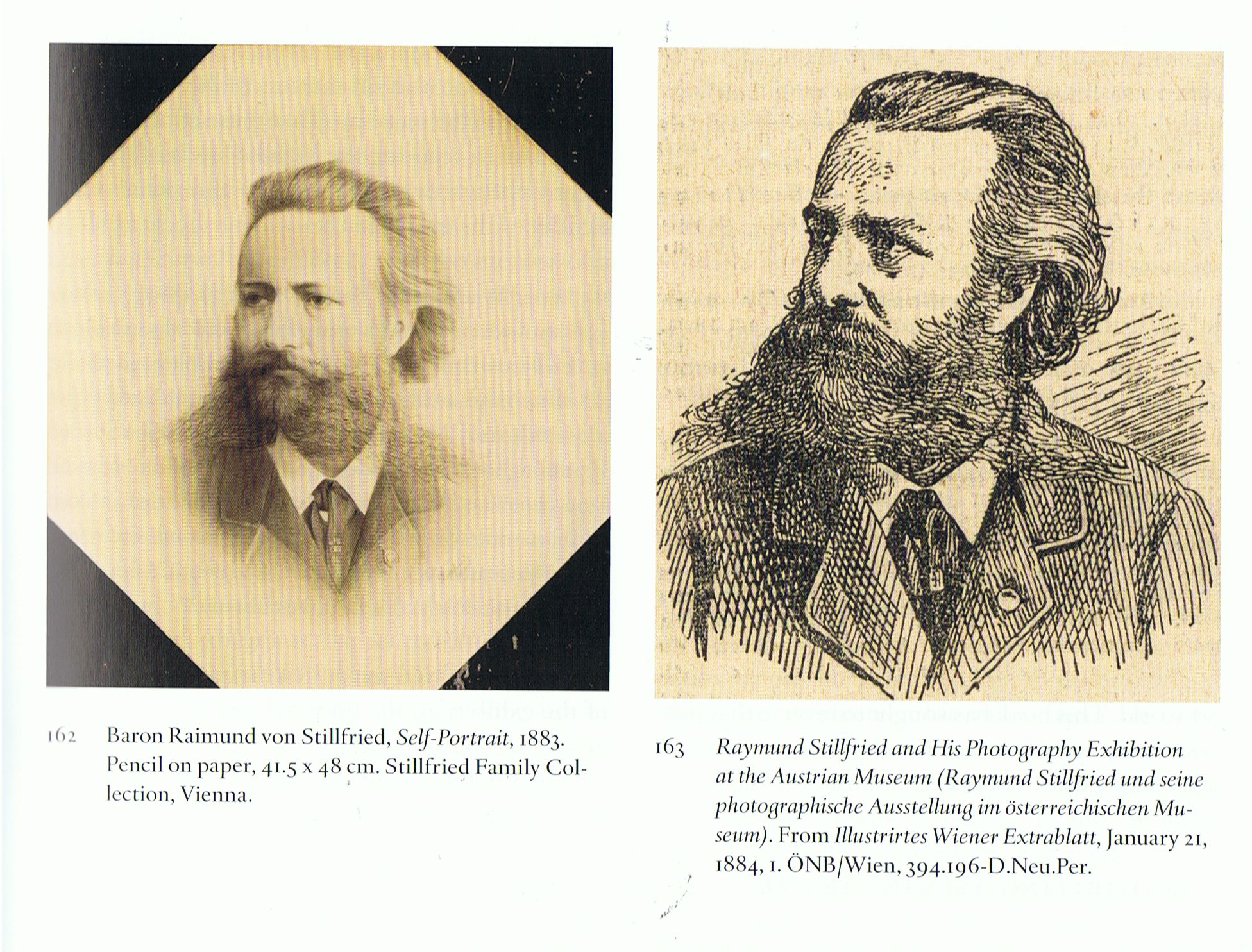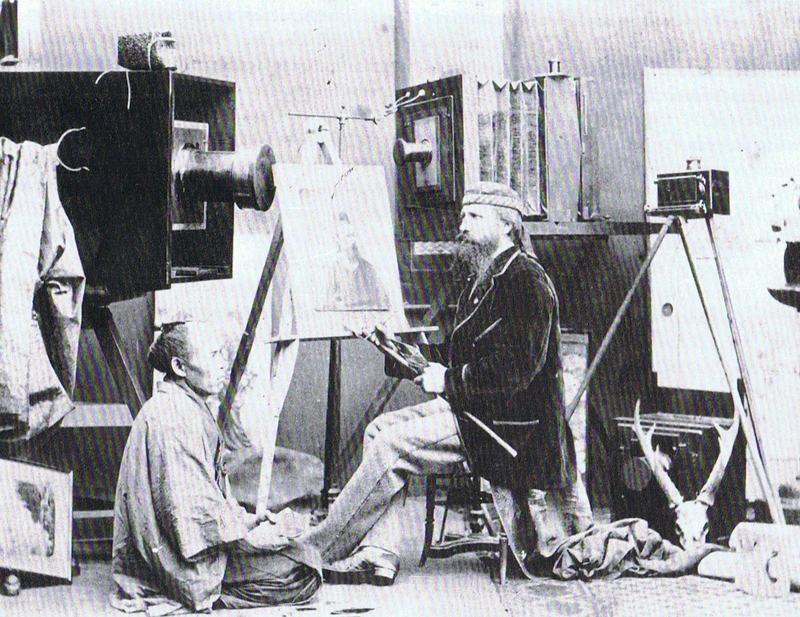 (Familienarchiv der Familie Stillfried, Wien)
Born on 6 August 1839 in Komotau (Chomutov), Czech Republic; son of the Austrian Lieutenant Field Marshal August Wilhelm von Stillfried-Rathenitz (Prague 1806-1897 Vienna) and Countess Maria Anna Clam-Martinicz (Prague 1802-1874 Kralitz/Kralice nad Oslavou, Moravia).
1851 (12 years old) as a cadet at the Naval Academy in Trieste - painting lessons with Bernhard Fiedler (1816-1904) at the same time
1856 moves to Linz - at the same time drawing lessons with Josef Maria Kaiser (1824-1893); 1859 lieutenant of the 36th infantry regiment; 1861 first lieutenant; 1862 transferred to the 42nd infantry regiment; Oct. 1862 captain of the 50th infantry regiment
1863 Voluntarily resigns from the army; travels to Peru as a ship's boy on the Bremen barque Inka; works as a hunter, fur trader and shipbuilder in South America
1863-64 travels to China, Japan, USA; meets the Berlin painter Eduard Hildebrandt (1817-1868) in Nagasaki in 1864
1865 warehouse manager at the Dutch textile company Textor & Co. in Nagasaki
1866-68 as lieutenant in Emperor Maximilian's Mexican army in the cavalry regiment of the "Red Hussars" under Count Khevenhüller in Mexico City; 1867 execution of Emperor Maximilian in Queretaro
1867 after August short return to Vienna; Sept.-Dec. second stay in Japan; again warehouse manager at Textor & Co. in Nagasaki
1868 Stays in Yokohama, Shanghai and Peking, where he assists at the German legation; probably returns to Nagasaki in the same year.
1869-1870 is mentioned and praised by the American travel writer Margarete Weppner as a "German Nobleman" in Yokohama and Jeddo (=Tokyo): in the meantime works at the North German Embassy in Tokyo and as a reporter for the Austrian government
1869 Austro-Hungarian East Asia Expedition receives significant support from Stillfried in Yokohama and elsewhere
1871 founds the photo studio Stillfried & Comp. in Yokohama; probably little experience with photography before; possibly lessons from Felice Beato (1832-1909; in Yokohama since 1863); already in this year, however, he puts a series of views on the market
1872-73 Affair about the portrait of Emperor Meji, whom Stillfried photographs without official permission on an inspection trip to Yokosuda; the Japanese government tries to prevent the publication, turns to the British Consul Russell Brook and the Austrian Minister Resident Baron Calice, but Stillfried invokes his American citizenship, for which there is no local authority
1872 Travels for two months through Hokkaido at the request of Prefect Kiyotaka Kurode; member of the Photographic Society in Vienna
1873 Stillfried travels to the World Exhibition in Vienna with 3 geishas and 2 Japanese carpenters; has a Japanese teahouse set up in the Prater, where he shows his photographs and other souvenirs from Japan; receives the Medal of Progress and the Order of Emperor Franz Joseph; donates photographic views of Yokohama to the Photographic Society in Vienna
1874 Returns to Yokohama via Hong Kong; participates in the Austrian expedition to observe the transit of Venus;
In addition to photographic articles, Stillfried also sells handicrafts (leather, bronze goods, pianos) from Vienna in his shop in Yokohama; his most important employees are Wilhelm Willmann, H. Hemmstede (retouching) and Hermann Andersen (from 1875 partner, since 1876 Japan Photographic Association); in the heyday of the studio there are up to 38 employees
1875 Travels to Shanghai; receives the title of Imperial and Royal Austro-Hungarian Court Photographer
1876 Travels to Shanghai and (with Richard Ritter von Drasche-Wartimberg and Count Zichy) to the temple island of Enoshima
1877 Destruction of the business premises of the Japan Photographic Association by fire; Felice Beato sells his shop and his negative archive to Stillfried and Andersen; in June travels to San Francisco and Philadelphia (where his older brother Franz lives with the Frenchwoman Jeanne M.E. Cluzelle); continues to Europe (Amsterdam, Berlin, London, Vienna)
1878 April Stillfried and Andersen participate in the Paris World's Fair, where they shine with large Japanese views; via Marseille, Naples, Port Said, Suez, Aden, Galle, Singapore, Saigon and Hong Kong back to Yokohama; dissolution of business partnership with Hermann Andersen
1878-79 teacher for photomechanical reproduction techniques at the Japanese Government Printing Office, which was newly founded with his help on the Austrian model
1879 works temporarily in Tokyo; moves in the company of distinguished German expatriates and German tourists; brother Franz moves from Philadelphia and also establishes a photo studio in Yokohama
1880-1883 works mainly in continental Asia, having reached an agreement with Hermann Andersen that the latter was only allowed to take photographs in Japan, Stillfried only in China, and to trade in photographs; travels to Siberia; works in Shanghai, Hong Kong and in Bankok, Siam (=Thailand), among other places for the King of Siam as a painting restorer
1883 returns permanently to Vienna; leaves behind a "housewife" and two daughters in Yokohama; marries Helene Jankovich de Jeszenicze (2 children: Alice Franziska Eugenie Marie 1885-1964; Alfons 1887-1974)
1885 Hermann Andersen and Franz Stillfried sell their companies to Farsari & Co., whose premises are destroyed by fire in 1886; Franz returns to Philadelphia in 1889; Raimund Stillfried becomes a member of the Geographical Society in Vienna and exhibits watercolours and photographs at the Österreichischer Kunstverein.
1889-90 Last major photographic journey through Greece, Bosnia and Dalmatia; lives in Vienna at Reichsratstrasse 27
1891 participates in the International Exhibition of Artistic Photographs in Vienna
1893 10 wood engravings after Stillfried's photographs of Bosnia and Herzegovina for the essay by Adolph Flachs "Aus Neu-Oesterreich von Serajewo nach Mostar", in: Illustrierte Zeitung No. 2632, 9 December 1893, p. 696ff; lives in Vienna 18, Cottagegasse 28; runs a restoration workshop at Liechtenstein's Feldsberg Castle, Czech Republic
1895 paints the watercolour "The Interior of St. Stephen's Church
1898 paints the watercolour "The Interior of the Court Library
1895 paints the oil version "The Interior of St. Stephen's Church
1902 lives in Vienna 18, Gentzgasse 9; mainly paints interiors
1911 (12 August) dies in Vienna; Helene Jankovich de Jeszenicze donates 134 of her husband's photographs of Japan and China as well as 24 watercolours to the Museum für Völkerkunde in Leipzig
Fotostudio
Links zu den Werken und Museen
Raimund auf wikimedia commonswikimedia commons
Luminous-Lint was created over the last decade to share information about the history of photography worldwide. Over 2,950 people, stands and institutions have provided information - with hundreds of continuously improving histories of photography, it is unique in the arts.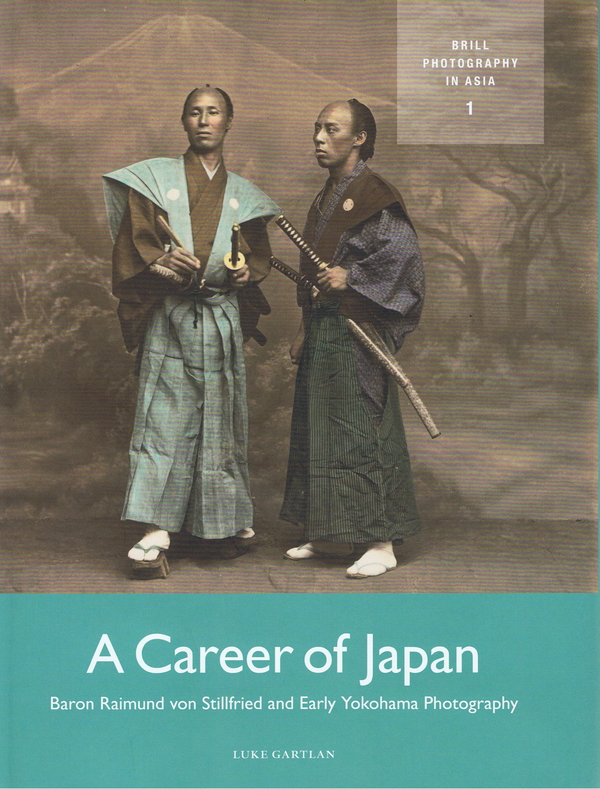 ISBN: 978-9004289321 Luke Gartlan - BRILL - Leiden-Boston 2016
Literatur:
Luke Gartlan:
With argus eyes. The early life and work of Baron Stillfried-Ratenicz (1839-1911), Phil.Diss., University of Melbourne, 2003.
ders.
A chronology of Baron Raimund von Stillfried-Ratenicz (1839-1911), in: John Clark (Hg.), Japanese exchanges in art, 1850-1930, with Britain, continental Europe, and the USA: papers and research material, Sydney 2006.
Alfons Stillfried, die Stillfriede. Three centuries from the life story of an Austrian family, Wien, Europäischer Verlag, 1965.