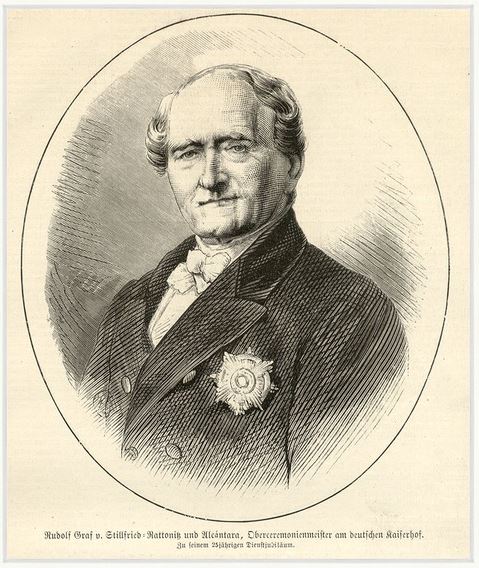 Rudolf Maria Bernhard Count von Stillfried-Alcantara was born on 14 August 1804 in Hirschberg in Silesia. He died on 9 August 1882 on his way home from Wildungen to Silbitz Castle near Nimptsch.
After private tuition, Stillfried attended the Matthias Gymnasium in Breslau from 1818, the Ritterakademie in Liegnitz and the Catholic Gymnasium in Koblenz and studied law at the University of Breslau from 1824 to 1830.
The encounter with the Prussian Crown Prince, later King Frederick William IV, at Prince William's court camp in Fischbach, gave the young country nobleman's life a decisive turn. An interest in art history and knowledge of genealogy and heraldry prompted the historically minded Crown Prince to entrust Stillfried with the publication of works on the history of the Prussian royal house, of which the "Altertümer und Kunstdenkmale des Hauses Hohenzollern" (published from 1838) and the "Monumenta Zollerana" (1840-42 and later again with T. Märker) are worthy of mention. After his accession to the throne, Stillfried was appointed Master of Ceremonies in 1843 and Chief Master of Ceremonies in 1853. From 1852 to 1868 he was in charge of the newly established House Archives, in 1854 he was appointed to the board of the newly established Herald's Office and in 1856 he was appointed to the General Order Commission. In addition, Stillfried was indispensable to the King as an advisor, especially in his restorations of historical buildings, including the restoration of Hohenzollern Castle, and in negotiations on complicated issues, as well as in the organisation of court festivities and celebrations.
Stillfried continued to hold his offices under Wilhelm I, and also served the Prince of Sigmaringen, among others, as whose ministerial commissioner he accompanied Princess Stephanie of Hohenzollern, who was married to the King of Portugal, in 1859, for which he was appointed Grandee of Portugal as Count of Alcantara. He also devoted himself to historical research and literary works, including the history of the Silesian nobility and also the history of his family.
(Renate Endler)
A sketch by Adolf Menzel for the coronation of Wilhelm I. Oberzeremonienmeister Rudolf Graf Stillfried-Alcantara.
Quelle: Geheimes Staatsarchiv Preußischer Kulturbesitz - Deutsche Digitale Bibliothek
Universität Stuttgart - Transskriptionen Rudolfs Tagebücher
Link zu Deutsche Biographie